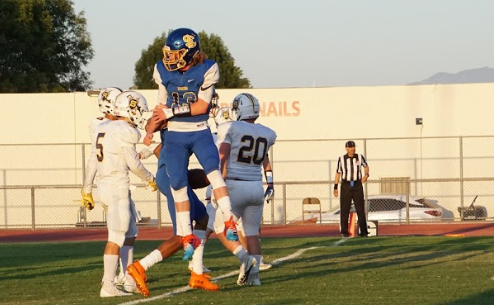 Olivia Jones
Despite a few big plays on Friday, August 30, the SCHS Bruins lost against the Soquel High School Knights 6-27 in the first game of the season.
"I thought we competed hard, we kept our composure, we made a couple of big plays early," head coach Burt Codera said. "I think hopefully we can learn from our mistakes, bounce back and improve from this game."
The Bruins started their first quarter strong, with senior running back Bailey Mungaray running a kick return that set senior wide receiver Joseph Hernandez up for a touchdown. The tide turned when the Knights pushed their way to the goal and ran a touchdown up the middle, tying the score 6-6 at the end of the first quarter.
The second quarter began with another struggle with Bruins on defense. Though they were able to hold the line for several minutes, the Knights built their lead with a second touchdown. The Knights made it to the 10 yard line their next time on offense, but lost the ball on a fumble with 30 seconds left on the clock, entering halftime with the score at 6-13.
As the second half began, the Knights received the punt and ran deep into Bruin territory, setting them up for another touchdown.
Going into the fourth quarter with a 6-20 deficit, the Bruins brought themselves to the 9-yard line. However, the Knights intercepted a pass over the middle and broke into open field. The Knight defender sprinted down the sideline, but was stopped short of a touchdown by Hernandez's effort.
Despite the Bruins' hustle, the Knights capitalized on their long return to complete a final touchdown, ending the game 6-27.
Though they may have lost, the Bruins are remaining optimistic about the rest of the season.
"Don't judge us off this first game, just know we're going to bounce back and be better than ever," Mungaray said.