CAMPUS: Comfortability surrounding COVID-19 rises for many students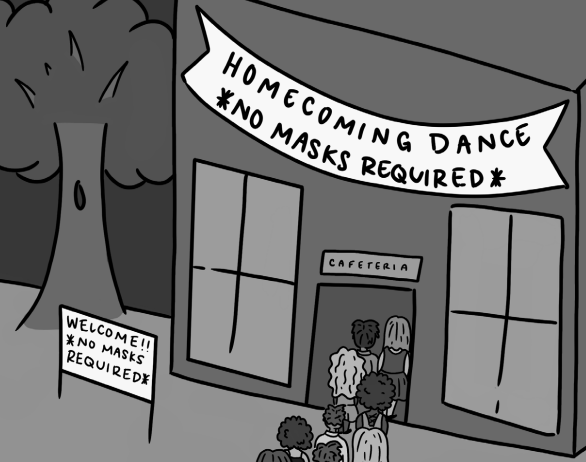 Attendance at school events has grown recently due to the decrease in COVID-19-related conflicts. This has slowly changed many students' perspectives on COVID-19 being an endemic instead of a pandemic.
SCHS sophomore Daniel Webb has slowly become more comfortable with being in crowded environments and wearing his mask less often.
"At the beginning of the pandemic, I wore a mask a lot. Anytime I was outside of my house, I would have one on," Webb said. "Then it gradually shifted, I let it off in some more private and enclosed spaces. I don't really wear a mask anymore."
Many, like junior Kabir Sahni, believe one factor in more relaxed guidelines and public attitudes is the rise in COVID-19 inoculations.
"I was uncomfortable in crowds because the media was making COVID seem like a big deal, which it really was because a lot of people were getting sick and the number of deaths was starting (to increase)," Sahni said. "But as the vaccines were developed by the pharmaceutical companies, the numbers started becoming more calm."
Although many students have become more comfortable with the new vaccines, other students did not notice a drastic improvement.
"At the beginning, I thought the vaccinations would be the end-all, and that there would be no more COVID," Webb said. "I realized that after the first couple of weeks, more and more people got vaccinations, but people were still getting COVID at high rates."
With the steady decrease in risks perceived by the public, SCUSD restrictions have eased. Kabir explained how the shift in school restrictions has affected him and other students.
"(At the) beginning, everything was shut down, which was good because the virus was pretty dangerous since we didn't have any protective measures," Kabir said. "Now, restrictions have relaxed a lot. I think that's good because people have a choice of what they want to do, whether they want to wear a mask or not."
Despite the fear and stigma surrounding COVID-19 diminishing, concern of the virus still exists for many students.
"A lot of people are still afraid of it. As at the beginning of the pandemic, we thought we would be able to get rid of it completely," said Webb. "Now it seems less likely. We are almost three years from the start of the pandemic, and it's still there."
Regardless of a lingering fear of COVID-19 amongst the student body, many are now comfortable with attending activities, such as football games and dances. Kabir shared his experience attending the football games.
"I went to the football games that we had about a month ago," Sahni said. "I felt comfortable because I took protective measures like washing my hands, doing everything I did when COVID started, but I didn't wear a mask because I just wanted to take that risk and have fun."
Webb, like many others, has become more comfortable with the risks associated with not taking as many precautions.
"I feel safe in crowded events and places," Webb said. "I'm not really worried about the spread of COVID anymore. This year, I really stopped (wearing a mask) because I realized that a lot less people have gotten it this year, and it seems to be declining."
Leave a Comment