Moon Zoom offers vintage clothing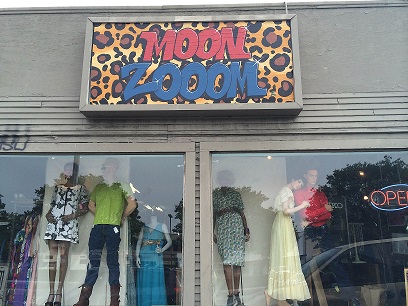 You walk in, take a look around, and see nothing but heaps of colorful vintage clothing. You breathe in that authentic vintage smell. You hear the sound of hangers being moved side-to-side as shoppers scavenge, and funky beats and jazz music play in the background. This can only mean one thing: You have just stepped inside Moon Zoom.
Moon Zoom is a vintage store located on San Carlos Street in San Jose, owned by Reed Wetter. For 24 years, it has been located in the same spot, with a spacious locale that includes multiple rooms of clothing and even an upstairs section.
The store sells many different vintage pieces, ranging from jumpsuits, 50s-style dresses and 80s prom dresses to fur coats, colorful tutus and spandex, and funky hats.
According to Wetter, the shop originally began as an antique store. However, after a lady offered to sell him some clothing, he got the idea to turn it into a vintage store instead.
Various companies rent spaces in the store to bring in their own vintage clothing. Profits from the clothing merchandise are given to the companies, which in turn pay rent to Wetter, so that both sides of the deal are making a profit.
"I think the store does well because vintage clothes are really cool and fun to wear," said Wetter.
Do not get confused though; Moon Zoom does not just sell stereotypical "tacky vintage" clothing. If you dig deep enough, you will find high-quality clothing that is not too expensive.
Some students at SCHS have been turning to Moon Zoom for their daily and formalwear attire. Junior Austin Stiver, who bought her prom dress at Moon Zoom a few months back, said that she really enjoys shopping there.
"It's nice to know that no one else will have the same prom dress as you, because they're all one-of-a-kind," she said. "Also, I like the different and retro style of the clothes that they have; it's refreshing in this era."
In the end, despite the inexpensive prices, you sure get more than what you pay for.
"The clothes were just made a lot better in the old days than they are today," said Wetter.