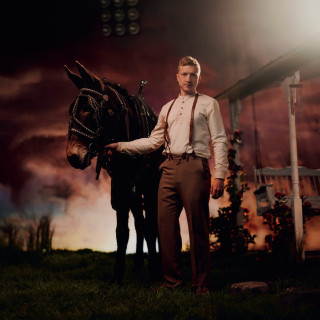 Since his first album, "Purgatory," released in 2017, country singer and Kentucky native Tyler Childers has slowly grown in popularity. Childers released his newest album "Rustin' In The Rain" on Friday, Sept 8. Lasting 28 minutes with only seven songs, Childers's album captures a theme of longing and hopelessness for his love. During the production of "Rustin' In The Rain," Childers took inspiration from singer Elvis Presley, reflecting a rangy and rockabilly vibe while also hitting on country-gospel.
Childers begins the title-track "Rustin' In The Rain" by immersing listeners in a jumpy beat. Even while being a novice to the familiarity of Presley's music, listeners can still hear the immediate resemblance of his work in Childers's. The jolly and cheerful vibe of the melody demonstrates the gratitude he has for his love-life. The title-track explores a longingness and connection for his lover's affection and hope that he is not forgotten and left "Rustin In The Rain".
"Let your love light shine / Don't ya hide it 'neath no bushel, baby / Take 'at wisk to task," Childers sings.
The next song,"Phone Calls and Emails" begins with a much more mellow and slow ambience compared to the title track. Childers immerses listeners into a ballad of singing, directly to his lover, as if he has left her a voice message, a plea to respond. The lonesome message forces him to question if he has done anything wrong while aching through the silence.
"Hello, good morning / I hope you've slept well / I hope that my message gets through / It's so unnerving / To get no reply / To the phone calls and emails I'm sending to you," Childers sings.
"Help Me Make It Through The Night," opens up with a slow guitar strum. The soft beat in the background is similar to the one heard in "New Kid in Town" by the Eagles. Childers explains through his lyrical structure he understands that every day is not granted but pleads to his lover to help him make it through the night. He does not care to understand the situation and accepts all and any outcomes to be with his loved one, despite the long-term consequences.
"Oh, help me make it through the night / I don't care who's right or wrong / And I don't need to understand / Let the devil take the tomorrow," Childers sings.
"In Your Love" introduces listeners to a solo gentle piano and a tender lyrical structure. The guitar strums and a soft drum beat carry the piano beautifully. Childers' easy going melody is accompanied by '80s-like sonic effects heard in the background as he conveys a longing and yearning feeling for his loved one's affection.
"Like a team of mules / Pulling hell off from its hinges / It's the love that I'll keep tending / I will work for you," Childers sings.
"Space and Time" has a slow dance beat with piano chords mixing with a slow guitar giving listeners an empathetic feel. Childers wraps the album up to highlight his love for his wife by explaining he does not want to die without her knowing how much he loves her.
"I never want to leave this world without saying, 'I love you' / Without saying what you mean / You know you make me happy, when we share this space and time," Childers sings.
Childers has entered a new era of music with his album "Rustin' In The Rain," making the quality over quantity clear. Childers's album leaves a lasting impression on his audience and is filled with significance, making the listening experience meaningful. Each song presents listeners with an opportunity to cry, dance or connect with the album.