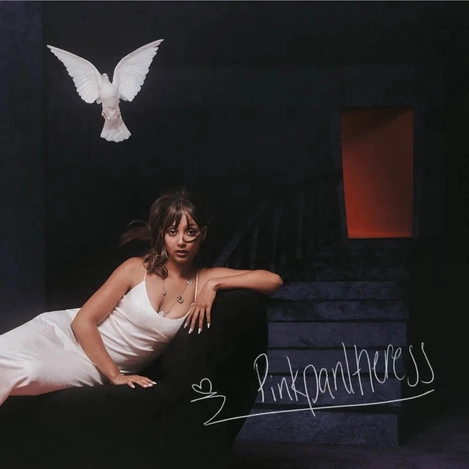 Vicky Beverly Walker, best known as Pink Pantheress, is an English singer, songwriter and producer who has taken the internet by storm with her debut album "Heaven knows." From bedroom pop hits like "Pain" and "Break It Off" along with her debut mixtape "to hell with it," Pantheress has developed world-renowned fame since the launch of her career in 2021.
Inspired by "The Pink Panther" film series, the public began to recognize the name "Pink Pantheress" after the release of her collaborative remix "Boy's a liar Pt. 2" with Bronx rapper Ice Spice. As the first single from "Heaven knows," the bubbly instrumentals complement Pantheress' airy vocals and contrast her vulnerable experiences with cheating.
"What's the point of crying? It was never even love / Did you ever want me? Was I ever good enough?" Pantheress sings.
In the opening track, "Another life (feat. Rema)," a haunting, vampire-esque instrumental and an electric guitar sample bring a creative flare to the track. Pantheress and Rema depict a longing dynamic of separation and its emotional impact.
"You melt up all my body and all my heart / At least now we'll get all the time apart / Guess I'll see you in another life," Pantheress sings.
In "True romance," Pantheress shows carelessness toward fame and develops romantic feelings for a popular singer she idolizes, even when they hardly notice her. She does everything to prove her worthiness, devotion and love to this person with the awareness that they have other admirers.
"I got a tattoo just to show how much I care / But there's so many girls around you that I'm scared / Tell me, do you view me the same? Or do you call me a stranger," Pantheress sings.
She hopes these feelings are reciprocated even when the relationship is clearly unachievable. The sound of cameras flashing at the beginning of the track and cheering at the end depicts the story from a publicity standpoint.
In "Feel complete," Pantheress feels unfulfilled due to her partner's alcoholism causing destructive behaviors. She expresses a lack of understanding and communication with her distant and unreliable partner. Pantheress enhances the song with her unique sampling style, weaving the Oxlade track "KU LO SA" discreetly in the instrumentation.
"Tell me why you allow alcohol get to you / I never wanted to end this book, this fairytale / Not another drink this week, I just wanna feel completе," Pantheress sings.
"Capable of love" is Pantheress' longest song yet, sampling slow chiming of bells to represent the long emotional toll of uncertainty. She depicts her difficulty with commitment, personal connection and a lack of reassurance in a relationship.
"And I think I need a picture 'cause it's never enough / To see you smilin' in my mind when I lay still in the dark / It starts with you," Pantheress sings.
"Heaven Knows" solidifies Pink Pantheress as a notable pop star with unmistakable potential. From beats on TikTok to billboard-charting hits, Pantheress continues to redefine her signature sound and explore new vulnerable topics.