REVIEW: "Ferdinad" leaves its audience with a warm message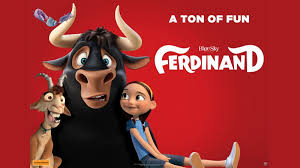 The animation movie "Ferdinand" leaves an important message to be true to oneself, especially to young audiences.
Though the movie was released on Dec. 14, the inspiration for the movie was created nearly a century ago. In 1936, Munro Leaf's "The Story of Ferdinand" was published. Though the book was intended for humor, it also led readers to seriously ponder the line between pacifism and keeping one's identity.
Blue Sky embraced "The Story of Ferdinand"'s message of self-acceptance to create the film "Ferdinand." The movie entertained many with its heartwarming family moments, laughable scenes and adorable animations. But what really spoke to the audience was the lesson it taught: accepting and embracing one's differences.
"It seems like from the moment you're born, people think they've got you all figured out; based on how you look, how you talk, where you're from–but it's not that simple," Ferdinand said in the film.
The film portrays a light-hearted bull named Ferdinand who would rather smell flowers than brawl in a ring. When his father does not return from a fight with a matador, Ferdinand decides to escape from his training camp. When Ferdinand is recaptured by his former masters, he must once again find a way to escape, this time with the help of his friends, before he meets the notorious bullfighter El Primero.
"Ferdinand" was a beautiful film that featured colorful scenery, inspiring characters and a captivating storyline. Similar to the book, this movie kept the humorous theme going with their comical references.
Aside from the many elements that made "Ferdinand" a fantastic film, the biggest factor of such a sensational movie was how self-acceptance was emphasized to the fullest extent.
Leave a Comment