REVIEW: Logic's new release, 'Bobby Tarantino II', is a confusing yet quality album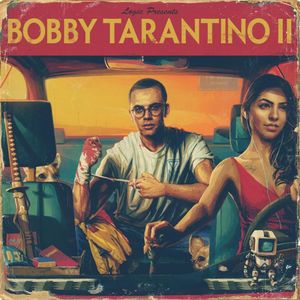 Following his overly preachy, essentially ineffective, social issue addressing album "Everybody," Logic ‐ real name Sir Robert Bryson Hall II – has decided to continue his confusing identity search for his place in the rap game by dropping "Bobby Tarantino II." His newest release has taken a significant step away from the monologuing-type rap that plagued his last album.
Consequently, by doing this, Logic shows his everlasting limbo between braggadocious rap-god and equality warrior.
This identity crisis can be definitively seen in the introduction track, named "Grandpa's Space Ship," which is a comedy skit between Rick and Morty of the titular television show. On the duo's space ride to "the planet Clazabar in sector G9," Morty suggests putting on music from Logic to his skeptical grandfather.
"Well are we talkin' about mixtape Logic or album Logic?" Rick asks. This line addresses the type of criticism Hall has received throughout his career as a musician; many people question what type of music the rapper actually makes. Judging by the content of "Bobby Tarantino II," it's something he doesn't have the answer to either.
A majority of the tracks cover two aspects of his career: his rise in fame and the success he's had. The hook from "Everyday" – an EDM collaboration between Logic and Marshmello – autotunes the statement, "I work hard every mother[expletive] day. I work hard, I work hard." Another song, "Wizard of Oz," flat out says, "I am the best rapper alive, 'cause they tell me I'm the best rapper alive."
After "Everybody" – which broke away from the boasting verses of earlier albums like "The Incredible True Story" to speak about racial problems – Logic has once again changed his message. Ironically, despite his slogan of peace, love and positivity, the Maryland rapper finally made a response to hip-hop artist Joyner Lucas on "Yuck"; one of the only times he's ever responded to hate from another artist. Lucas had been repeatedly firing shots at Logic since their triple-collaboration with Tech N9ne on the track "Sriracha" where Logic failed to impress.
Other songs are tremendously meaningless; "Indica Badu" is an entire anthem dedicated to smoking weed. In Wiz Khalifa's feature, for example, he raps. "We be havin' a OG Kush meetin'."
Despite these, there are certain aspects of the album which are incredibly refreshing and reminiscent of the artist's earlier days (except with better production quality). "Warm It Up" even goes as far as declaring it features Young Sinatra on the track, a persona Logic used in his earlier mixtape days. Along with this, Logic once again demonstrates his ear for a nice beat throughout the entire album, one of my personal favorites being that of "44 More."
While "Bobby Tarantino II" is an overall representation as to how the artist has been unable to find a clear purpose for his music, the tracks themselves aren't necessarily bad. Though the songs fail to hold any real significance, Logic's verses in this album are demonstrations of his superior flow and quality music that, like time after time, have not disappointed.
Leave a Comment