One reporter shares her experience of the 2019 Santa Clara City Library Comic Con
People of all ages stand outside the doors of Central Park Library. Some are dressed in cosplay while others wear nerdy T-shirts or adorn themselves with pins. A staff librarian announces that the doors are officially open, and fans stream in to experience the Santa Clara City Library's third annual Comic Con.
The con took place on Oct. 12 from 10:00 a.m.-4:00 p.m. Unlike the Silicon Valley Comic Con, where attendees have to pay for tickets, the SCCL Comic Con is completely free.
Like the Silicon Valley Comic Con, the library had an "Artist's Alley" set up in the main room. There attendees could purchase prints, stickers, buttons and more from Bay Area artists. The designs featured original art plus fanart from popular franchises like Harry Potter, Sailor Moon and Star Wars. I bought two cute original designs on a sticker and a keychain, and am more than happy with them. Since the tables are set up with small artists, the merch they sell is one-of-a-kind and there are tons of hidden gems.
Within the Redwood Room of the library, vendors sold their wares. Like Artist's Alley, there were goods from a variety of different fandoms. Star Wars merchandise as well as LEGO and anime figurines featured prominently. I found a book called "The English Teacher's Guide to the Hamilton Musical," which perfectly aligns with my branch of nerdiness. The items in Redwood Room and the art outside were set at reasonable prices, so it was a good opportunity for attendees to purchase merchandise from their fandoms of choice.
Spending money wasn't the only thing to do at the con. Arts and crafts stations set up around the library and in the park provided free activities. Some were targeted towards children but could still be fun for high school attendees. I spent time making a Fortnite Loot Llama with friends, which was surprisingly entertaining. Other stations provided activities for an older audience. Participants could make their own Dungeons and Dragons character or learn to play Magic: The Gathering. The staff manning those booths were friendly, making complicated games like D&D or Magic accessible to everyone.
A fan-favorite activity each year is the on-site button makers. The library offers a variety of designs to choose from and stamps them into buttons on the spot. I was able to find a Bridge Four design and have it made into a button for my backpack. The ability to choose my favorite design, as well as the novelty of the button-making machine, provides good reasons for what makes this station so popular.
Panels ran throughout the day on the top floor of the library. The guest speakers were artists or worked in the comic industry. They provided excellent educational opportunities for students with aspirations in that field. Having visited a few of the panels in prior years, I've always found them to be informative and engaging.
The SCCL Comic Con was fun for all, especially considering it was free and open to the public. For the geeks and nerds among us, this con is certainly worth a visit.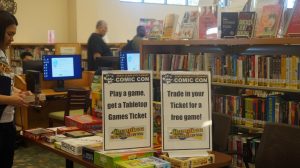 Leave a Comment