With finals approaching, one reporter reviews her top five Bay Area study cafés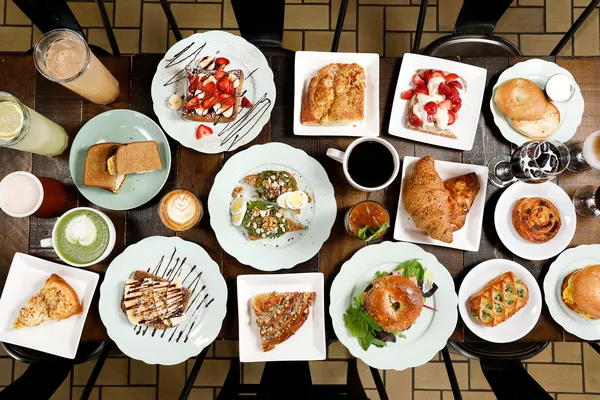 As a student in need of new places to work productively, I find joy in discovering the best coffee shops in the South Bay and am enthusiastic about exploring various cafés to sample their menus, experience the environment and study for an upcoming test. The following list comprises the five best cafés in the South Bay, including details about shop environments, best menu items, convenience based on operating hours and more unique factors that highlight the experience each cafe offers. Whether one intends to study and be productive, or to grab a light brunch and try a new drink, these coffee shops will surely not disappoint.
1. Big Mug Coffee Roaster, Santa Clara – 3014 El Camino Real
Big Mug Coffee Roaster welcomes all customers in a variety of ways, such as offering an abundance of outlets and plentiful seating and employing baristas that will remember customer names and orders and excitedly greet people upon arrival. A large portion of Big Mug's visitors are often there to study productively, which creates a motivating work environment. The café is appreciated by many SCHS students as it is located a half-mile away from campus, eliciting a short 15-minute walk, and drivers will find themselves with a surprisingly convenient and an untroubled parking experience. Big Mug provides a wide variety of items on their menu, and one will undoubtedly find many drink options that cater to their preferences. The coffee shop's drinks range from uniquely flavored espresso, matcha and chai lattes, as well as teas, fruit juices, smoothies, frappes and more. Their food items range from pastries, bagels and a variety of toasts, including their popular smoked salmon toast. Big Mug is perfect for long study sessions, as it is conveniently open for 15 hours on Monday through Saturday, from 8:00 a.m. to 11:00 p.m., and 12 hours on Sundays, from 9:00 a.m. to 9:00 p.m.. Big Mug provides a spectacular study and café experience with excellent customer service and menu variety. 
2. Voyager Craft Coffee, 20807 Stevens Creek Blvd. 
Voyager Craft Coffee's Cupertino location, which is located next to De Anza College and is approximately 4.7 miles away from SCHS, combines a unique menu with '70s-esque minimalistic decor and a colorful vibe to create the perfect study environment. The café's abundance of pink-hued wall prints, decoration and furniture – such as a big, light pink couch facing a floor-to-ceiling window view of Cupertino – mixed with its abundance of greenery provides a visually pleasing atmosphere. Voyager Craft Coffee's menu provides customers with freshly-brewed coffee, tea, a unique range of non-caffeinated drinks and its one-of-a-kind "Destination Latté" concept, which displays tasteful latté flavors named after destinations that range from Tokyo, Santiago, Valencia, Bali and Lexington. The café is open from 7:00 a.m. to 5:00 p.m. daily and offers free WiFi, indoor and outdoor seating and a fun and friendly ambience that fits a study session. Voyager Craft Coffee provides more than just a table to get homework done. Its interior, menu and overall uplifting and colorful vibe makes it one of the best of its kind in the South Bay. 
3. Philz Coffee, Sunnyvale – 125 S Frances St. 
In the heart of downtown Sunnyvale, a Philz Coffee resides at the corner of W Evelyn and S Frances St, approximately four miles away from SCHS. With high ceilings and enticing interior architecture, the store offers plenty of seating options, from large group tables, bar seating, outdoor tables and big, comfy armchairs. R&B plays on shuffle, which is never disappointing. Downtown Sunnyvale's Philz can accommodate any sort of work one intends to get done. Not only does the cozy, quiet environment provide an adequate atmosphere for productivity, but the café is open from 5:30 a.m. to 8:00 p.m. seven days per week and provides free WiFi, allowing studiers long periods of convenient work time, which is ideal for an after-school study session. Notorious for their drip coffee, Philz's menu is sure to conjoin one's study time with a creative and unique variety of coffees, teas, pastries and small meals. Those who are looking for tasteful, authentic coffee accompanied by a peacefully enjoyable and accommodative study environment are sure to find themselves welcomed and productive at downtown Sunnyvale's Philz Coffee. 
4. Orchard Valley Coffee, Campbell – 349 E Campbell Ave. 
Orchard Valley Coffee immerses its customers in the ambience of light chatter in Campbell's joyful downtown avenue. With vast window views of restaurants, ice cream shops, boutiques and souvenir shops, Campbell's Orchard Valley provides the experience of pleasant productivity synthesized with its wonderful surroundings. The café itself is vastly spacious with plenty of seating, and it tends to be a social coffee shop, which makes for an opportunity to bring a friend or two to study. The environment of soft conversations and light radio accompanied by the many plants, vintage decorations and comfy leather armchairs creates a homey, welcoming atmosphere to sink into a good book or study while enveloped by the downtown's nature and warm string lights hung outside. Orchard Valley Coffee is located about six miles from SCHS, is open from 7:00 a.m. to 6:00 p.m. each day and provides studiers with free WiFi as well as a wide variety of delicious hot breakfasts, salads, sandwiches and pastries that pair wonderfully with coffees and lattes brewed specially with Arabica beans. Orchard Valley's menu is one of the most diverse and flavorfully plentiful, and paired with its enriching surroundings and friendly, comfortable atmosphere, the homey cafe provides the perfect ambiance for group or individual productivity. 
5. Crema Coffee, San Jose – 238 Race St.
San Jose's Crema Coffee is a hole-in-the-wall coffee shop that provides a uniquely-themed store with an enjoyable study environment distanced approximately five miles from SCHS. The cafe is Pier 39-themed and wharf inspired, with a plethora of playful pier and beach-esque decorations that make one feel as if they are actually visiting Pier 39. Crema prepares many breakfast and lunch options, such as pastries, smoothies, toasts, soups, salads and sandwiches. The shop is open from 7:00 a.m. to 7:00 p.m. every day and makes for a great after-school study spot where one can get work done and grab a delicious bite to eat, all while encapsulated in a mesmerizing wharf-like surrounding. Crema can host customers both indoors and outdoors, provides plenty of tables, most of which comfortably fit two to three people, and offers free WiFi. With convenient hours and an unforgettably decorated environment, Crema Coffee surely should be one's next study cafe.
One is sure to find a state of deep productivity within the above cafés and coffee shops, which provide a welcoming environment with their ambience, menus, layout and convenience. Through close distance, easy parking, long hours, plentiful and variant seating, free WiFi and beyond, these cafes help one prepare for exams, complete homework, study, read and more.
Leave a Comment