REVIEW: 'The Cousins' is an underwhelming read which failed to provide readers with a proper plot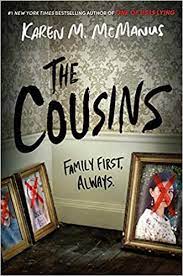 New York Times bestselling author Karen M. McManus has a large foothold in the world of young adult novels. On Dec. 1, 2020, however, she released a disappointing addition to her extensive repetition, "The Cousins." The lackluster and averagely-rated book is a poorly written incorporation to her lineup of thriller novels and is a boring attempt to write yet another cliche young adult book that lacks entertainment and identity. Additionally, it is once again a needlessly-politicized cash-grab in an attempt to try and bamboozle even more readers out of their time.
The book consists of 27 chapters, each one suspiciously containing roughly 13 pages each, almost as if McManus was focused on churning out pages rather than good content as all pages are filled with stale and unimaginative writing.
"The Cousins" follows three cousins of the renowned Story family: Mildred, Jonah and Aubrey, all of whom are natives of Massachusetts. The three teenagers are invited to work at a resort owned by their estranged grandmother, also named Mildred Story. It is here events start taking a sour turn, and it becomes the cousins' due necessity to investigate. The disappointing storyline conveys nothing good, instead deciding to take an uninspired approach.
The book does begin with an exciting premise: a family torn apart by sibling rivalry upon being disowned by their mother after their father passed. Despite having the potential to be a great story, McManus chose to explore a different route other than sibling rivalry, delivering a 300-page book containing nothing.
The book did have one high point – the setting of the book. McManus does an excellent job creating the world the book is set in, making the reader feel like they are in the highly-veneered islands of Nantucket, an exciting location for any book.
Readers will find themselves underwhelmed with the characters of the book. Jonah, Aubrey and Mildred Story are uninteresting, driving readers to dislike them. Every character feels formulaic and fails to accurately portray the lives of teenagers, reinforcing the same damaging stereotype that pins all teenagers as stupid and overdramatic.
The most important element of a thriller novel is suspense, and "The Cousins" fails to succeed. Every supposed "twist" is too predictable. The plot twists are highly unrealistic, acting as a gimmick to offer cheap, suspenseful relief in a sad attempt to contribute to the story. The failure to create a suspenseful story overshadows everything decent about the book, leaving a poor taste in the mouths of the readers, who are expecting more.
From its inability to develop and create interesting characters, its failure to deliver on a key component of thriller novels, to its dull and unimaginative writing. "The Cousins" is a deficiently-written book. It is a waste of time and would surely be disappointing for all readers looking to have a good read.
Leave a Comment