REVIEW: Red Hot Chili Peppers' 'Return of the Dream Canteen' brings an energetic vibe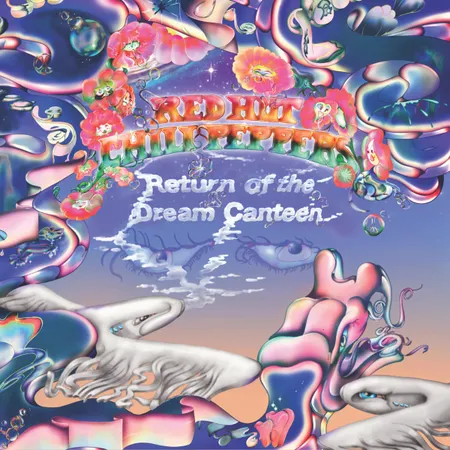 Unafraid of producing any style of music, Red Hot Chili Peppers released their 13th album,  "Return of the Dream Canteen," on Friday, Oct. 14. With 17 songs to fit every taste and a duration around 75 minutes long, listeners are able to experience a new energy from the band. 
Much like its name, the album reflects a playful and vivid dream. The music video for the opening track, "Tippa My Tongue," consists of trippy, flashing graphics that add to the brightly-toned song, making it an enjoyable experience. Having a nostalgic '80s vibe, "Tippa My Tongue" is the most energetic and unique song on the album, containing some of Anthony Kiedis's trademark nonsensical lyrics.
"Ya, ya-ya-ya, ya-ya-ya, ya-ya-ya, ya," Kiedis sings.
While being a bit repetitive, the refrain compliments the vibe of the song and immerses one with the music video that matches the same theme, graphics and instruments. The entirety of the track in addition to the visuals and camera angles make it pleasurable to watch and a memorable introduction to the album. 
Although most of the songs are played and sung in an upbeat manner, many of the lyrics have deeper, romantic meanings. The rock and roll styled "Reach Out" provides both a lively beat with relatable, meaningful lyrics. 
"I'm about to lose what little I've got / Please don't treat me like an afterthought," Kiedis sings.
These lines demonstrate the feeling of being willing to give everything for a lover despite fear of vulnerability. The track's motif reveals hopefulness and shared mutual respect and want. 
"La La La La La La La La" is a calm, soothing song in contrast to the others, adding variety to the album by using a smoother beat with softer and more peaceful lyrics. In replacement of a guitar and drums, piano and vocals overtake the track. "La La La La La La La La," is a dreamy, romantic addition to the usually crazy, intense Chili Peppers songs. 
Much like "La La La La La La La La," "Shoot Me a Smile" is perceived in a calmer and cleaner way. The song flows more tenderly and thoughtfully, like one written to sing to a partner. 
"A nautical mile and I will shoot you the breeze always / Flowers in bloom, I get 'em off of the moon," Kiedis sings.
"The Drummer" also has a music video, but it is underwhelming in comparison to "Tippa My tongue." It has a simpler setting, with the band playing on a small stage in a darkly-lit room with a spotlight shining on each band member during certain parts of the video. No aspects of the song stand out and it closely resembles another track on the album, "Peace and Love," only with a faster beat. 
A first listen to the album will feel like an escape from the real world into a fun, child-like fantasy. Red Hot Chili Peppers's new release, "Return of the Dream Canteen," will not disappoint listeners with its romantic, high-spirited and energetic mood.
View Comments(1)