REVIEW: Sam Smith's "Gloria"conveys a story of growth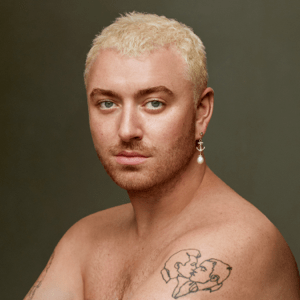 In 2012, Sam Smith rose to fame, and since then they has been releasing music connecting listeners around the world and spreading a message of love. "Gloria" is Smith's fourth studio album, released on Friday, Jan. 27. It consists of 13 tracks, with a total duration of 33 minutes.  Many songs feature artists such as Calvin Harris, Ed Sheeran and Jessie Reyez. 
The first track, "Love Me More," is a soft toned song with a message about self-love. Smith powerfully sings about having a negative self-image and hating who they were but slowly learning how to love themself more. 
"Every day I'm tryin' not to hate myself / But lately, it's not hurtin' like it did before / Maybe I am learning how to love me more," Smith sings.
"No God" is the second song on the album. With a similar feel to "Love Me More" yet a different storyline, Smith sings strongly about how sometimes people share different perspectives than their own. While they try to respect others' opinions, they realize that others are only spreading negativity to bring people down.
"Just because it's your opinion, doesn't make it right / You're no god (Give up), you're no teacher (Wake up) / You're no saint (Shut up), no leader (That's enough now)," Smith sings.
On a more upbeat tone, "Lose you," has a dance pop vibe and is the perfect breakup track. The song opens with quiet harmonic humming, but a beat slowly rises and lyrics are introduced. Smith describes loving someone dearly but being unable to let go of the relationship. The first verse captures wanting to fight for a relationship and work problems out.
"How could you give up on us like that? / Want you to know that I'm willing to make this right," Smith sings.
"Perfect" is a powerful duet featuring Jessie Reyez's smooth vocals. With an emotional melody to match soulful lyrics, the two sing of finding a lifelong partner and hopes of being accepted even with their flaws and insecurities.
"Might be time for the right guy / Got a feeling that it could be you / I'm not perfect, but I'm worth it / I'm not perfect, but I'm working on it," Smith and Reyez sing.
Unlike most of Smith's tracks, "How To Cry" is a song mainly played on the guitar. Soft strums surround a vulnerable message, offering lyrics about wanting someone to be something they are not and trying to convince oneself that it is worth being with that person. 
"I believed you could change / But you're still the same / When it hurt, I didn't make a sound / You've never been satisfied / And you blame that on me / I know I got nothing left," Smith sings.
The final track on the album is called "Who We Love," featuring popular artist Ed Sheeran. Similar to "How To Cry," the song is played on the piano, heavily contrasting Smith's well-known club vibe. The instrument choice brings out emotion in Smith's words. 
Together, Smith and Sheeran sing of being free to love whoever they want. Many believe that this song is an attribution to the LGBTQ+ community and Smith's relief to not have to hide who they love. 
"We love who we love / Kiss in a crowded place / No need to be discreet," Smith and Sheeran sing.
The album encapsulates various feels and auras in its collection of songs. "Gloria" expresses a mix of freedom, lust, pride and heartbreak with messages that listeners cannot help but connect to. 
Leave a Comment