REVIEW: J. Cole's 'The Off-Season' offers phenomenal lyrics and does not disappoint listeners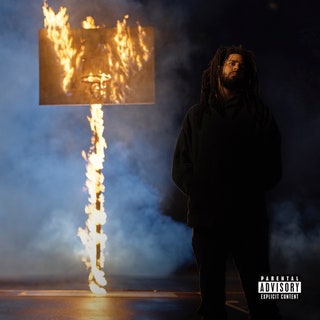 J. Cole released his highly anticipated sixth studio album, titled "The Off-Season," on May 14 at 12:00 EST. The album has 12 songs and is 39 minutes long. "The Off-Season" should be considered a perfect album by all who listen, and none of the songs are skip-worthy or have any major flaws.
Arguably, the best song on the album is "m y . l i f e," which contains classic features from popular rappers, including 21 Savage and Morray. When the tracklist for "The Off-Season" was released, no information about features was released with it, making it unexpected to listeners.
"m y . l i f e" compares Cole's childhood and upbringing to those of his peers. As his peers grew up with privilege and money, many of Cole's role models fell victim to addiction, which led to poverty and disadvantages throughout his childhood. Cole and Morray not only discuss this but also speak on the value of perseverance and how it has paid off and led to his modern-day life full of success and luxury.
Morray sings about how he has come to own his hardship, and how the hardships have become amenities through diligence. He sings, "My life is all I have / My rhymes, my pen, my pad / And I done made it out the struggle, don't judge me / What you sayin' now won't budge me / 'Cause where I come from , so often / People you grow up with laying in a coffin / But I done made it through the pain and strife / It's my time now, my world, my life, my life."
Other songs that deserve similar recognition include "p r i d e . i s . t h e . d e v i l," "l e t . g o . m y . h a n d," and "1 0 0 . m i l '" due to their spectacular lyricism and beats.
On "p r i d e . i s . t h e . d e v i l," famous rapper Lil Baby delivers an exceptional and quite unanticipated feature, which adds to the excitement around the release of the album. In this song, Cole compares pride to a devil and how pride may have destroyed him because it feels as if his high ego has been the cause of many's death or downfall. He thinks that pride makes people portray themselves in inaccurate ways and act out of sorts for quite unnecessary reasons. This song delivers a very well-executed balance between the overall beat and very hype feature from Lil Baby, and lyrics and bars that are more on the mellow side from Cole.
"l e t . g o . m y . h a n d" can also be considered one of the best songs on the album due to the way it captures listeners with its calming harmonies and lyrics, alongside its seamless intro and outro that does the perfect job of building up to the initial lyrics and fading out of the song. "l e t . g o . m y . h a n d" includes features from artists Bas and 6LACK. The deep lyricism hooks the listener, and the vocals are top-notch.
Another song that can't go without recognition is "1 0 0 . m i l '." This song is a traditional J. Cole song in which he speaks on his accomplishments, success and assets, especially money.
Cole explains that despite being successful, he is still working hard to accomplish even more, and he feels like the leader of a hypothetical game. He raps, "One hundred mil' and I'm still on the grind /… / This game is like follow the leader, if you looking closely enough, then you'll see that I led."
The song is in regards to the improvement Cole has continued to make as a rapper, despite already being considered a prestigious artist. "1 0 0 . m i l '" could also be referencing how he very recently signed to play professional basketball. This song is the most hype song in the album and is very motivating. The interesting use of vocals toward the end contrast surprisingly well with the previous fast-paced bars.
Overall, J. Cole dropped a perfect album. "The Off-Season" does not disappoint in the slightest, and many listeners have already titled it as the album of the year. The album has already reached #1 on iTunes charts and will not lose its well-deserved commotion any time soon.
Leave a Comment