REVIEW: Summer Walker's 'Still Over It' describes a healing journey from heartbreak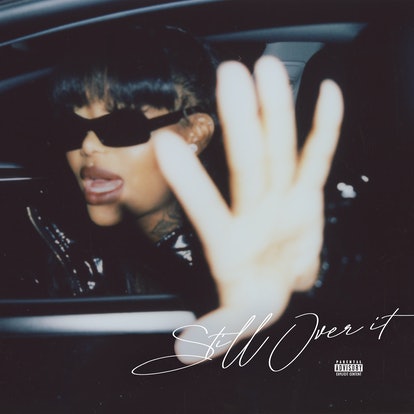 R&B singer Summer Walker released her highly anticipated sophomore album "Still Over It" on Nov. 5 at 12:00 a.m. EST. "Still Over It" is the sequel to Walker's chart-topping debut album, "Over It," which was released in 2019.
Walker sings her heart out in her 20-track project, an open diary marked with Walker's raw, unfiltered feelings about her failed relationship with producer London Tyler Holmes, known professionally as London on da Track. The tracklist includes a selection of guest features ranging from Cardi B to SZA.
To kick off the album, "Bitter" is a message written to address social media drama and shame her ex-partner and his children's mothers for invading her privacy. The buildup of her "bitter" feelings is soothingly concluded with a voicemail narration from Cardi B, which sweetly comforts Walker to work past the rumors and transform her emotions into music.
"Do it your own way and do it beautifully, do it special / If you are pregnant and everything, say it in a beautiful way in your music," Cardi B advises.
On the 19th track, "4th Baby Mama," Walker transparently articulates her devastation over the relationship failing to fulfill her original expectations of pure love. Walker's deep lyricism reveals her personal struggle of single motherhood.
"Tell me, why did you do this to me / After we made plans for a family? / A liar, a cheater, a deceiver, heartbreaker," Walker sings to open the song.
"Tellin' people that I'm your queen / But all you mean is just of R&B / I know you ain't care 'cause you always gone" and "prolly was with your baby mamas one through three," hints at London's disloyalty throughout their relationship.
Walker's collaboration with artist SZA in "No Love" delivers an addictive mesh of vocals delicately layered over a steady R&B beat. In this track, Walker reflects on being blinded by an unappreciative lover.
"You didn't yet see my worth, so you try to play me / But I was so in love, love / That I just got a little bit too complicated," Walker sings.
In these lines, Walker shares her realization of having a partner who did not respect her, but she had invested herself deep into the relationship.
"If I did it all again / I would give like ten percent / You deserve like half of that," SZA sings.
R&B stars SZA and Walker certainly met fans' expectations with this track as the collaboration received great support.
With a nearly flawless studio album return, "Ex For A Reason" is the only title that lacks in seamlessly blending into the collection, furthered by a dull and unexciting rap feature from City Girls's JT. Walker attempts to bring a refreshing experimental take with an upbeat taste, a contrast to her well-known relaxed style. Despite the underwhelming single, Walker makes up for it with "Closure" and "Circus," two tracks that highlight her silky vocals over chill instrumentals.
"Unloyal" includes an appearance from fellow singer Ari Lennox. The jazz-heavy track intertwined with the bold presence of the saxophone give a soulful vibe. These elements compliment the sultry voices of Lennox and Walker, who sing to inspire fans to deflect poor treatment in relationships and rebuild self-independence.
"You think that I need you? Boy, you funny / Got my own money, so I'ma show you / Ayy, you swear that I'll be lonely / Guess you don't know me," Walker sings.
Walker concludes the new release with "Ciara's Prayer," narrated by singer Ciara, as she shares the requests she made to God that guided her to a healthy, loving relationship with her current husband.
"I'm hurting, but there's purpose in my pain. / I need you. I need you to restore my faith in love, give me strength," Ciara prays.
After a turbulent breakup, Ciara prays to God for a relationship that revives her lost hope in love.
"Lord, thank you for reminding me who I am / I am a queen, I deserve to be treated like one. / I'm a warrior, I will get up," Ciara speaks to restore self-acceptance.
Summer Walker's captivating work presented in "Still Over It" highlights her incredible talent. As she transforms her pain into creativity, Walker's relatable experiences attract the audience and provide a space of healing. The well-crafted album infused with Walker's mature vocals are sure to capture the hearts of new listeners.
Leave a Comment