REVIEW: From love to nostalgia, Taylor Swift's 'Red (Taylor's Version)' expresses a multitude of emotions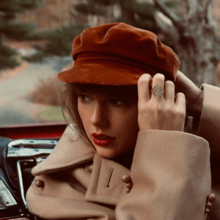 On Nov. 12, Taylor Swift dropped her re-recorded issue of "Red" at 7:00 p.m. EST. On June 18, 2021, Swift first revealed that "Red (Taylor's Version)" was originally scheduled to drop on Nov. 19, 2021. On Sept. 30, however, Swift tweeted that "Red (Taylor's Version)" would roll in a week earlier than planned. The album contains all the original songs from the album "Red," along with an additional 10 tracks that were meant to be on the 2012 version but did not make the cut.
"Red (Taylor's Version)" contains a mix of moving new tracks along with nostalgic songs from the past. Swift adds a perfect mix of her past and present, demonstrating her drastic growth throughout her musical career. From powerful lyrics that make fans want to cry on their bathroom floor to empowering those who deserve to feel love and get what they merit, "Red (Taylor's Version)" is a liberating album.
The song "Sad Beautiful Tragic" is a perfect example of what it is like to heal from someone who hurt the other. Swift expresses how stressful it is to try and keep that person in one's life. They cannot heal because they are still in love with the brokenness of what that person brought them.
"Distance, timing / Breakdown, fighting / Silence, the train runs off its tracks / Kiss me, try to fix it / Could you just try to listen? / Hang up, give up / For the life of us we can't get back," Swift sings.
Swift reveals her growth not only musically but emotionally. In the song "Nothing New," Swift and Phoebe Bridgers sing "How can a person know everything / At eighteen, but nothin' at twenty-two?" She expresses how important it is to recognize how much others think they know when they actually know nothing.
Toward the end of the album, there is a 10-minute track called "All Too Well." The song was one of the most anticipated songs of the album due to the breakthrough of emotions Swift brings regarding one of her past relationships and how much can be hidden. One verse gives its listeners a little snippet of what Swift's love life looked like in its beginning stages.
"I walked through the door with you / The air was cold / But something 'bout it felt like home somehow / And I left my scarf there at your sister's house / And you've still got it in your drawer, even now / Oh, your sweet disposition and my wide-eyed gaze / We're singing in the car, getting lost upstate / Autumn leaves falling down like pieces into place / And I can picture it after all these days," Swift sings.
Swift captures the early stages of love, where feelings are not fully realistic but magical.
"And I know it's long gone and / That magic's not here no more / And I might be okay, but I'm not fine at all," Swift sings.
In the pre-chorus, Swift expresses how she knows she and her partner have disconnected. It is slowly affecting her and tugging her into pieces. Swift then reflects on a sacred moment she had with her partner, trying to reassure herself that maybe that spark will return.
"'Causе there we arе again on that little town street / You almost ran the red 'cause you were lookin' over at me / Wind in my hair, I was there / I remember it all too well," Swift sings.
The song gradually gets more and more painful. Swift is trying to save something that does not deserve to be saved, so she runs in circles trying to grasp something that is no longer there until it finally breaks her.
"I remember it all too well / And you call me up again just to break me like a promise / So casually cruel in the name of being honest / I'm a crumpled up piece of paper lying here / 'Cause I remember it all, all, all," Swift sings.
"A Message From Taylor" is the final track and specifically for Swift's fans, showing that she values them and is comfortable sharing her traumatic and incredibly vulnerable moments with those who might understand.
"'Red' resembled a heart-broken person / It was all over the place / A fractured mosaic of feelings that somehow all fit together in the end / Happy, free, confused, lonely, devastated, euphoric, wild / And tortured by memories past," Swift says.
Overall, "Red (Taylor's Version)" fronted many different emotions: the good, the bad and the confusing. All of which are important for those around to realize and live with, instead of neglecting, and Swift's album certainly highlights that.
Leave a Comment